Launching a new business idea or expanding operations to meet demand is an exciting experience. But any business owner who's faced this scenario will tell you it can also feel risky and intimidating.
A design-build construction method may be your best bet for minimizing risk, but to achieve budget targets, you may need to make concessions in terms of quality. A special construction method we call VENEBUILT
SM
builds on the pros and eliminates the cons of traditional design-build construction.
Design-Build PROS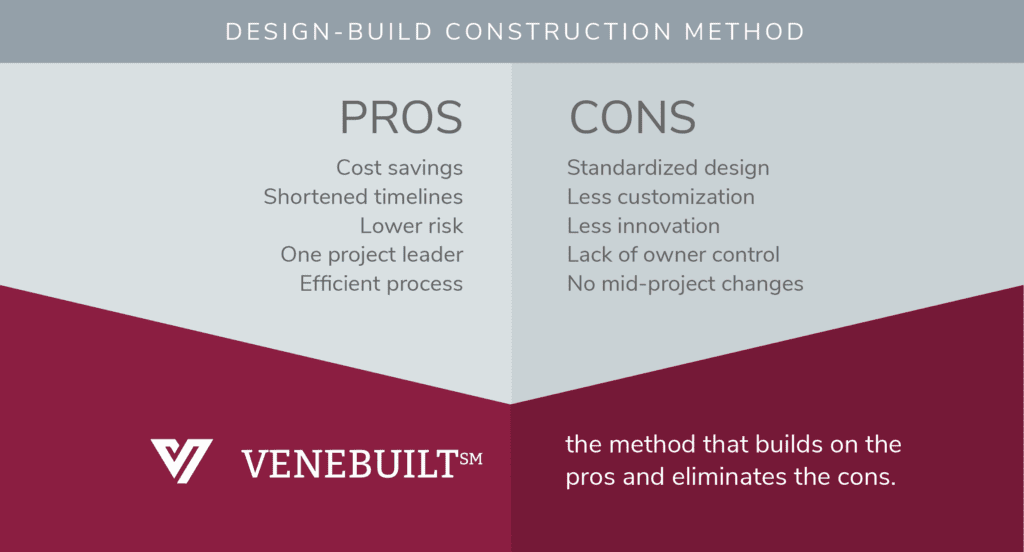 We've been a design-build contractor for more than 40 years. We believe in a design-build approach to commercial construction because it's been proven to be a cost effective and timeline-friendly solution - and who doesn't value shorter timelines and smaller budgets?
A design-build approach centers around a single, empowered project leader – usually a general contractor – who has full scope knowledge of the construction process. This leader can facilitate efficient decision-making and manage overlapping timelines to streamline construction complexity, allowing projects to be completed quickly. The deep combined skillset and experience of a good design-build general contractor provides competency, predictability, and inherent risk management.
Design-Build CONS
The design phase is often condensed leading to a more standardized outcome. Because traditional design-build can limit the exploration of ideas and innovation, design customization is minimal. The building that results can lack the thoughtful design and quality construction that directly impact people and businesses for the long term.
Traditional design-build can also put a client's vision at risk. Managing a project for efficiency first can lead to a lack of control by the owner. If changes are needed mid-project to stay true to the owner's vision, it can be disruptive and costly. A contractor who is primarily focused on keeping budget and timeline in-check may prefer to limit a client's involvement after a project is underway.
VENEBUILT is the work that comes before the work
Early-stage planning - before construction plans and estimates are developed – is critical. Digging into your project vision and exploring options early paves the way for efficiency, value, quality – and great design. Robert Andrus of Andrus Architecture describes how this stage works "Veneklasen helps owners think through and fully vet their needs, desires, and aesthetics and then relays this information to the professional design team who can then seamlessly and quickly generate the necessary permit and construction documents."
At this point in the VENEBUILT method you are introduced to a team of experts like Andrus, each with a different specialty and an independent voice. Together, this group of architects, engineers, and construction pros will advise you on all aspects of your project and come together to recommend a construction plan that meets your budget, design, function, and business goals.
Whether you're a construction veteran or exploring your first building project, this advisory team will guide you to an excellent outcome. Your Veneklasen team, which includes CEO Chris Veneklasen, knows the questions to ask. Chris Veneklasen explains how he approaches this first critical phase, "We know that a great outcome requires actively listening to a client's needs and ideas. Our role at this stage is to provide leadership and to create a robust and responsive plan that integrates the ideas and solutions brought forward by a team of advisory partners that's been assembled just for this project."
VENEBUILT is a method and an attitude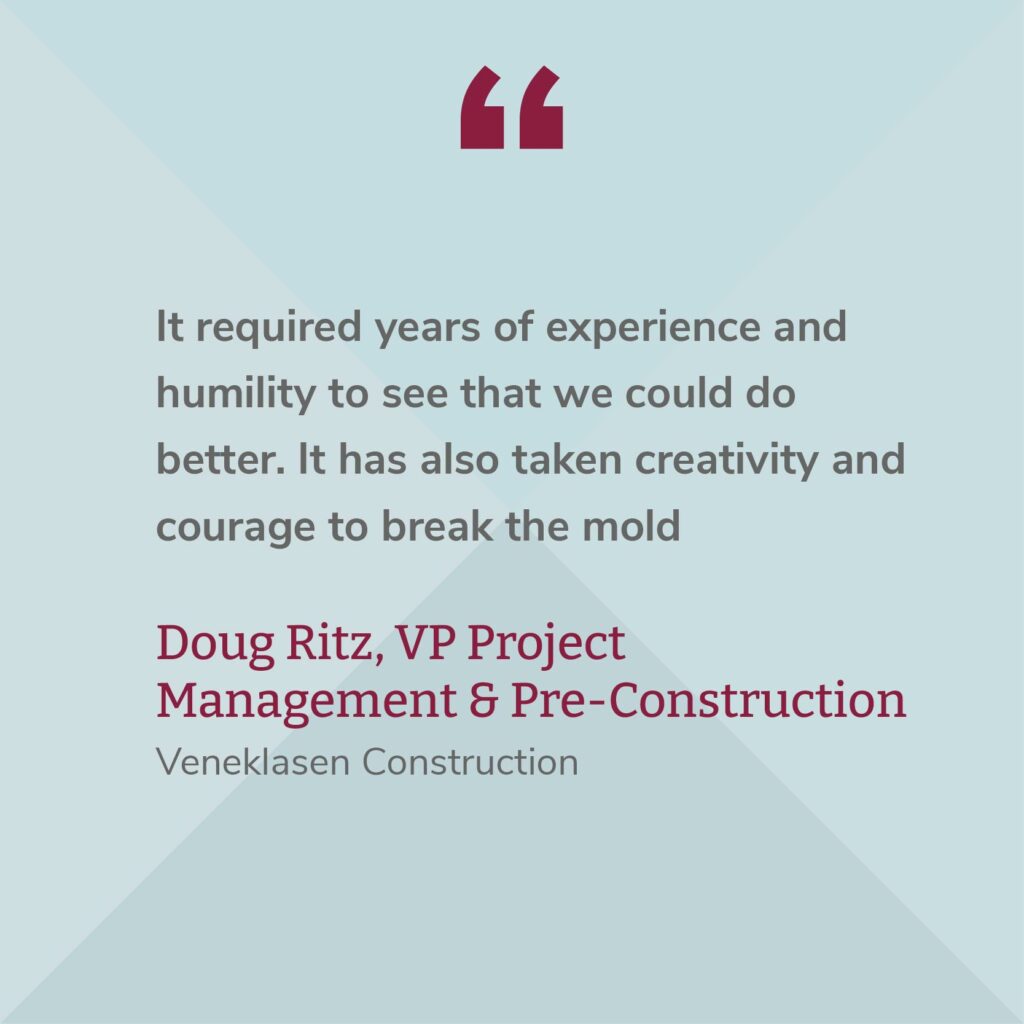 Veneklasen didn't solve the design-build pro/con dilemma overnight. "It required years of experience and humility to see that we could do better. It has also taken creativity and courage to break the mold." Says Doug Ritz, Veneklasen VP of Project Management and Pre-Construction. Chris Veneklasen adds "VENEBUILT isn't just an altered process, it's a way of serving customers that results from the unique way we run our business and treat our people. Our core values of respect, integrity, passion, safety, and superior service have guided our development of the VENEBUILT model."
The company's culture and dedication to always do the right thing is responsible for their strong relationships with dozens of sub-contractors and architecture and engineering partners. Mike Corby, Managing Partner at Integrated Architecture shares his firm's experience, "I appreciate how they respect what everyone brings to a project, especially on the design side. While I chuckle at Chris's cryptic sketches to help communicate his ideas, he really lets us do our jobs and is a great collaborator on projects."
VENEBUILT uses a management approach focused on shared goals and empowerment.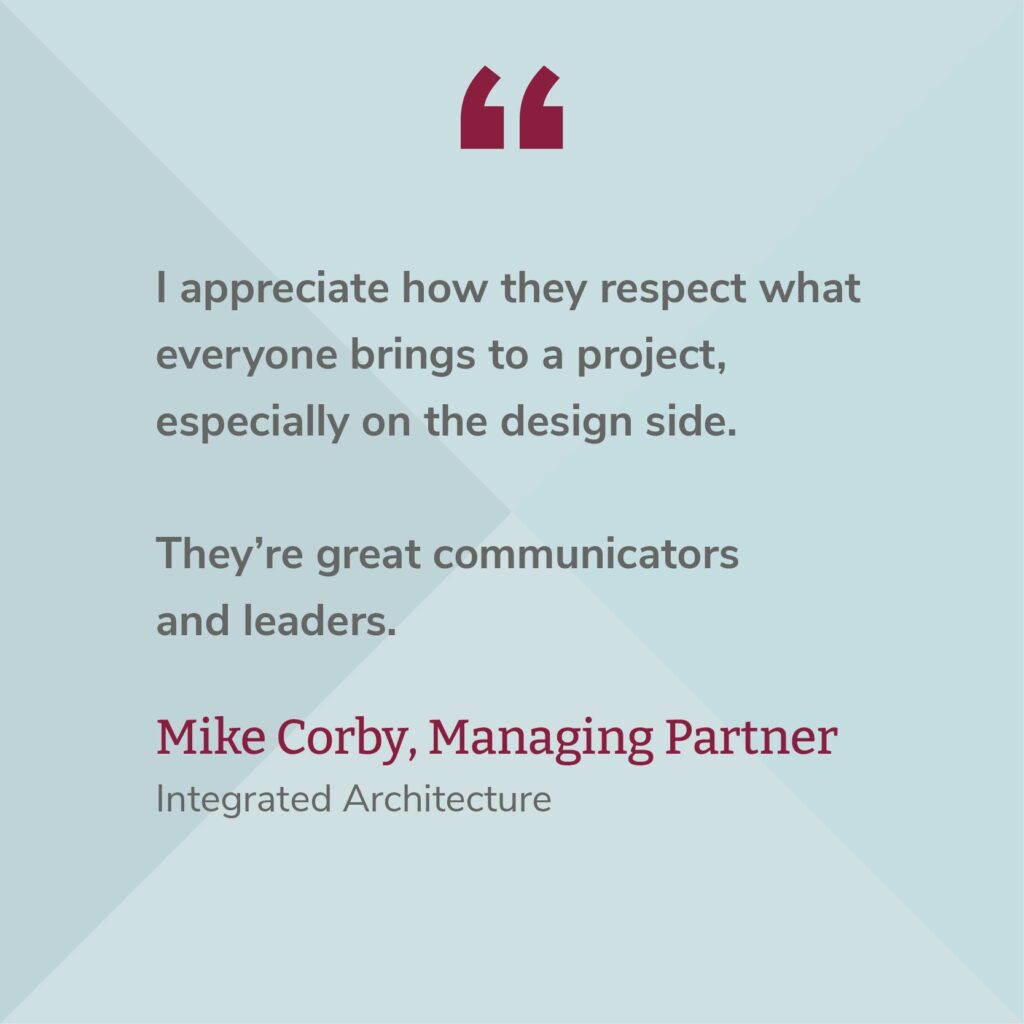 Transparency between all partners, including the client, is facilitated by tech tools that create an openness to all aspects of a project. Veneklasen teams are specially trained in delivering the good news as well as confronting the challenges. When something doesn't go as planned, the customer knows as soon as Veneklasen knows. When changes are needed, your project team is all-hands-on-deck to find solutions while doing what's needed to maintain time and budget efficiencies.
The people you work with, combined with the processes they use, create a unique experience that can't be replicated. Architect Mike Corby summarizes what it's like to work with team Veneklasen like this: "They are a great group to work with! They work collaboratively and balance exceptional professionalism with enjoyable personalities. And they're great communicators and leaders. They know how to bring good, tangible value ideas to projects, which is critical in today's construction climate."
VENEBUILT creates a better experience
The VEBEBUILT process is smart, but your process may be smarter, so flexibility is built in. Because Veneklasen leaders, project managers, and superintendents collaborate daily, adjusting to respond to special customer requests or react to hiccups like supply chain and engineering issues is simple and uncomplicated.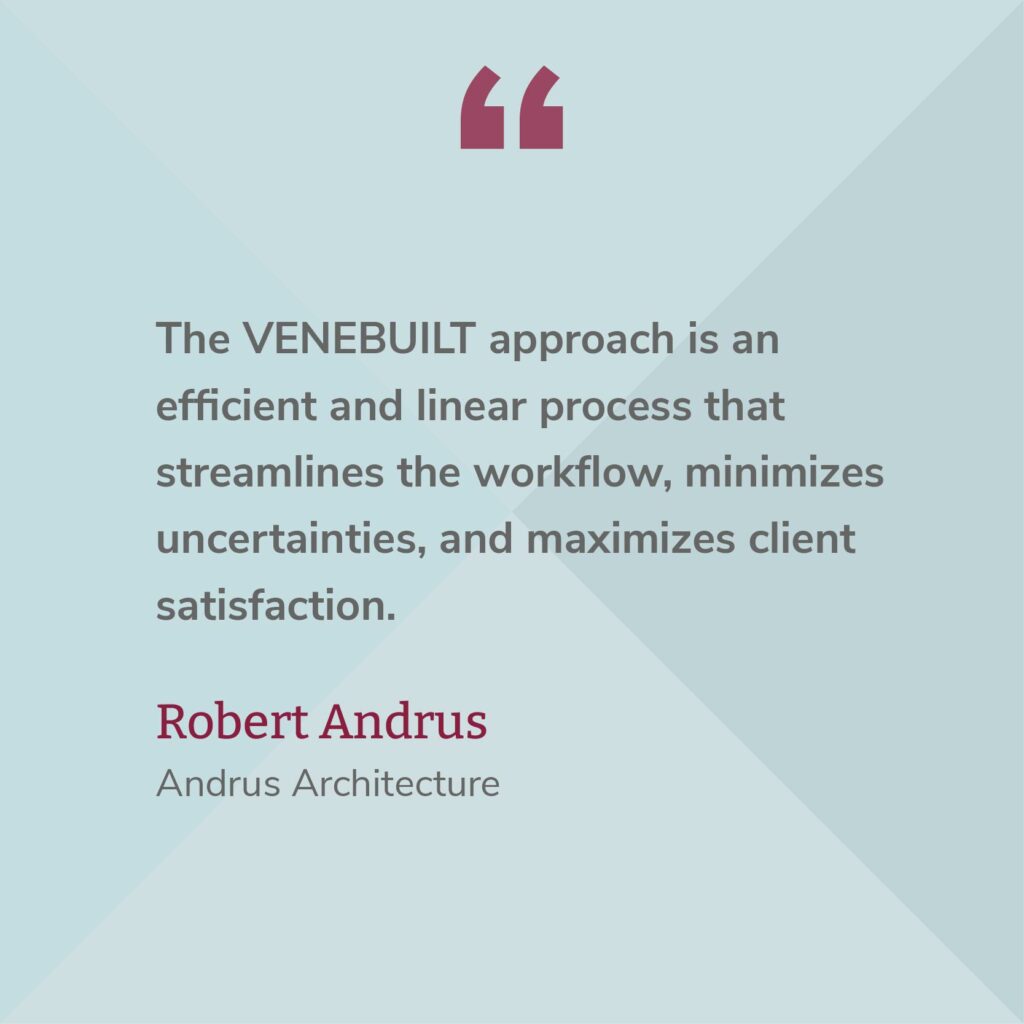 "During the pandemic, it seems like every project had at least one supply chain issue. Lumber shortage one day, concrete the next. We use our existing collaboration process and good supplier relationships to quickly find solutions." Says Nick Cadarette, Veneklasen Senior Project Manager .
No design-build experience is perfect, but the VENEBUILT method has succeeded in removing the flaws and enhancing the positives. A VENEBUILT project roadmap guides a series of processes that have been deliberately designed, continually improved upon, and customized for each project. All VENEBUILT projects are procedurally similar, so your team knows exactly what to expect. As Robert Andrus sees it "The VENEBUILT approach is an efficient and linear process that streamlines the workflow, minimizes uncertainties, and maximizes client satisfaction."
The outcome of a VENEBUILT experience is a better design-build project that achieves your construction and business goals and eliminates costly change orders after your project breaks ground. According to Chris Veneklasen, "VENEBUILT is what we mean when we say we're dedicated to building it right."