The skilled trades workforce is aging, and there's a shortage of new talent to fill the gap. While many industries are feeling a shortage of workers, for the skilled trades vital to the construction industry the need is even more dire.
According to the Associated Builders and Contractors (ABC) in 2023 the construction industry needs to hire over 500,000 new workers in addition to the normal hiring pace of the overall economy. With such a vast construction workforce gap to bridge, what is the industry doing to meet that need?
Construction Workforce Challenges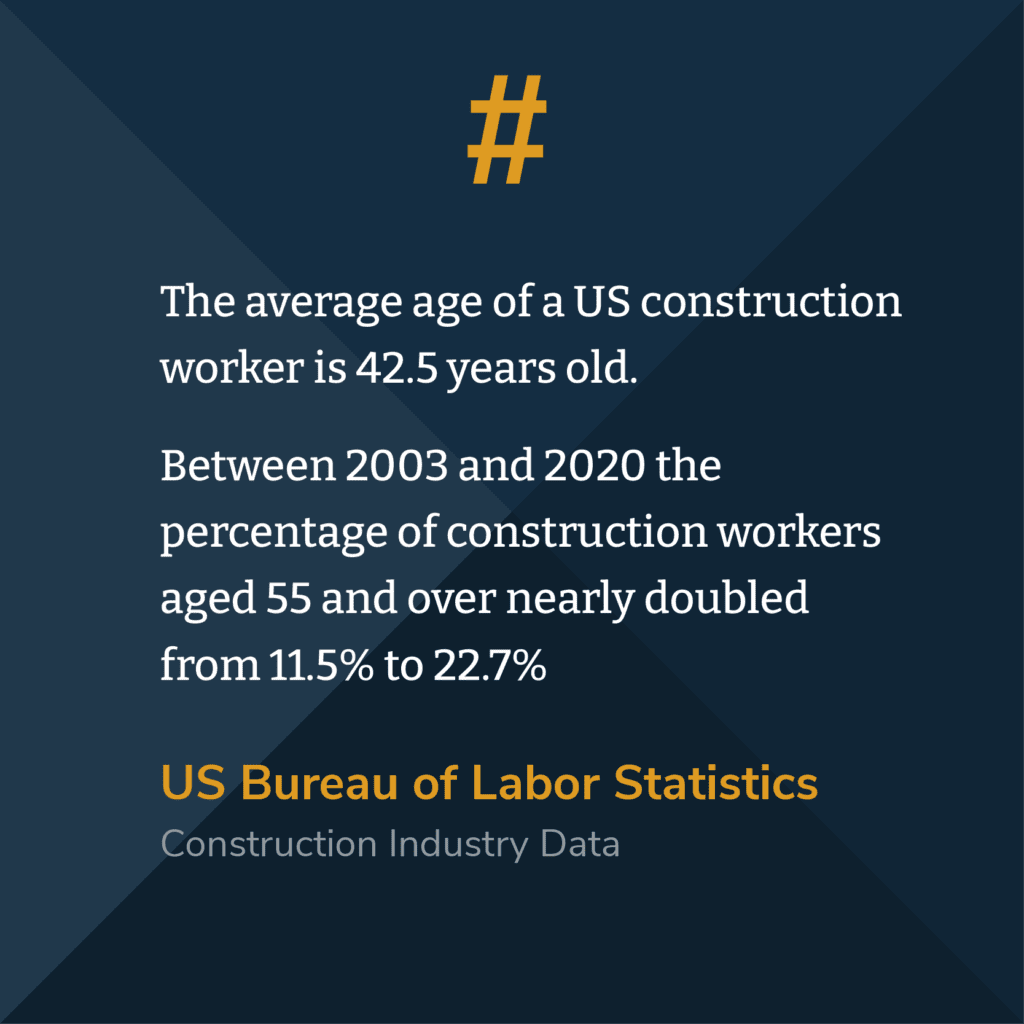 To diagnose any problem, one must search for the root cause. While the labor market is complex and no one factor can fully explain a shortage, there are several trends in the construction industry that are certainly contributing to the lack of skilled workers.
One of the biggest issues is that the most experienced members in the trades are retiring and no one is taking their place. According to the Bureau of Labor Statistics the average age of a construction worker is 42.5 years old and between 2003 and 2020 the percentage of construction workers aged 55 and over nearly doubled from 11.5% to 22.7%. Young people simply aren't entering construction at sustainable rate of replacement.
Organizations like the
West Michigan Construction Institute (WMCI)
are helping to address this problem by providing a pathway for those seeking to enter the commercial construction industry. They partner with schools, employers, and individuals to provide training, knowledge, and certifications that can lead to a meaningful and well-paying career in commercial construction. Jen Schottke, President of WMCI, related that she sees a wider cultural perception of the trades may be preventing high-school and college age individuals from entering the construction workforce.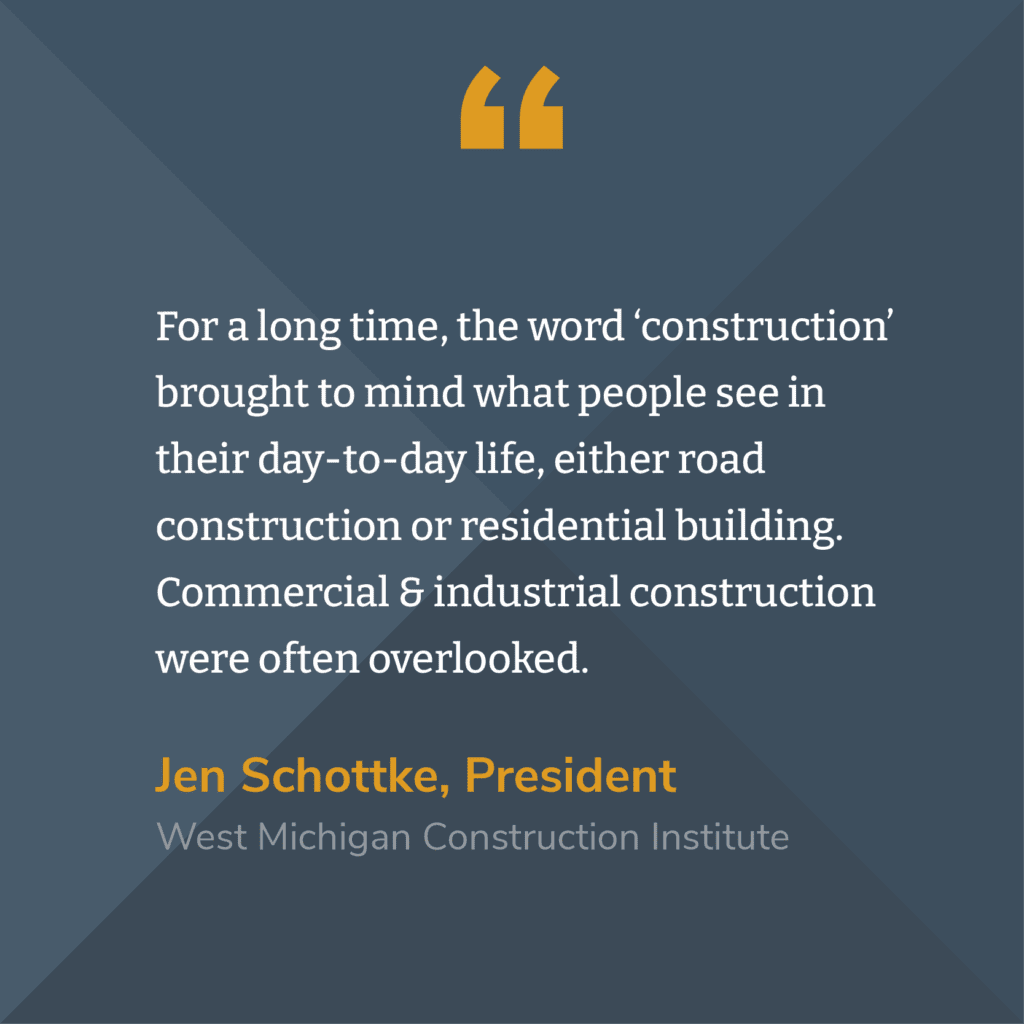 "For a long time, the word 'construction' brought to mind what people see in their day-to-day life, either road construction or residential building. Commercial & industrial construction were often overlooked. In addition, construction jobs were seen as low skill and low pay. Thankfully in the past decade or so the construction industry has recognized the need to address this perception and has begun to significantly turn it around," she said.
In addition, the fact that skilled construction workers are in high demand causes a tension that employers face between hiring experienced workers and spending time to invest in apprenticing and training new workers. While WMCI and organizations like it are positioned as a training and knowledge resource for employers, Schottke reiterates that, "Making the time for training and apprenticeships must be a corporate culture decision. There needs to be a recognition that there may be some slowdowns but that you will make it up in the long term through the investment made in talent development."
What is the Client Impact?
One of the most obvious results of such a workforce shortage is that project timelines can start to get longer. With fewer skilled workers available, subcontractors may be stretched thin across multiple projects which can cause delays. This same lack of labor can also increase costs as the demand for construction services exceeds the available supply. Clients might also find it challenging to locate reputable contractors with available capacity during a workforce shortage. Skilled trades employees may feel pressure to rush their work, work longer hours, or make other concessions on the job site which could potentially lead to a decrease in overall performance. Workforce shortages can impact ancillary industries and supplies as well, causing common construction materials and supplies to become harder to get and more costly.
Perceptions are Slowly Shifting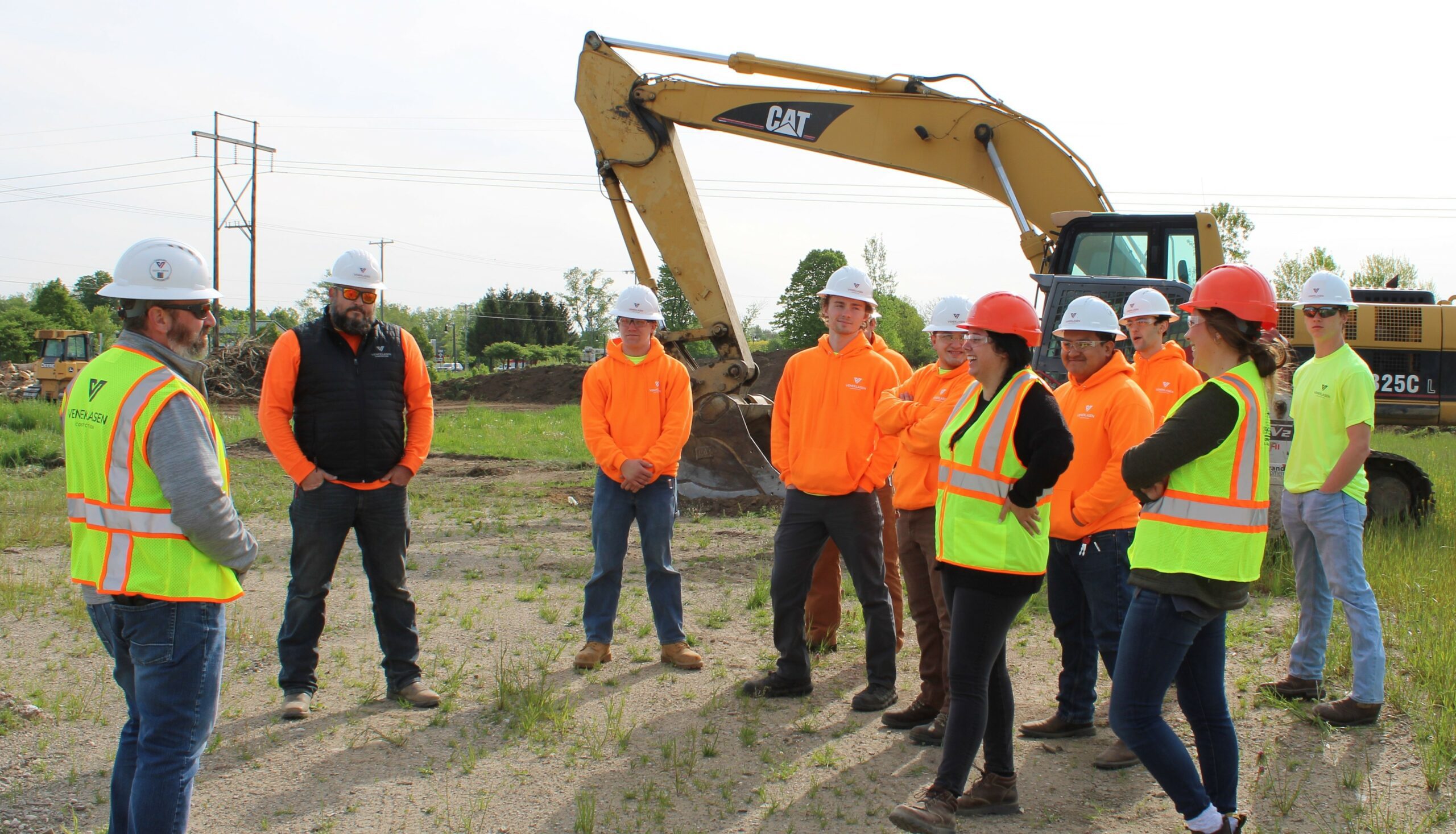 One of the ways that the industry is hoping to reduce the shortage of workers is by dispelling the myth that the skilled trades are low paying. While wages will always vary based on location and experience, the trades often pay better than people might imagine. Young people should also consider that many careers in the trades start off with apprenticeship programs where you are being paid while you learn. This can mean achieving a better financial position earlier in their career. Shifting ideas about what a long-term career looks like also have had an impact. Many young people are looking outside of the college-degree-into-office-job pathway as college has become increasingly expensive. In the 20 years between 2000 and 2020 the average cost of tuition rose 69%. Instead of taking out student loans these individuals are stepping right into the workforce.
Diversifying the Construction Workforce
Along with the US workforce in general, the construction industry has started to recognize the need to recruit more women and minority workers. Women only accounted for 10.9% of the 11 million people employed in the construction industry in 2022, and Black or African Americans only accounted for about 6.7% of that total. These figures indicate a large, underutilized pool of talent. Organizations like the ACE (Architecture, Construction, Engineering) Mentor Program are helping to tap into this talent with after school programs, internships, and one-on-one guidance with industry professionals – all with the goal of attracting students into pursuing careers in one of those industries. The majority of ACE students (69%) come from minority backgrounds and over 40% of their students are female.
Veneklasen's Contribution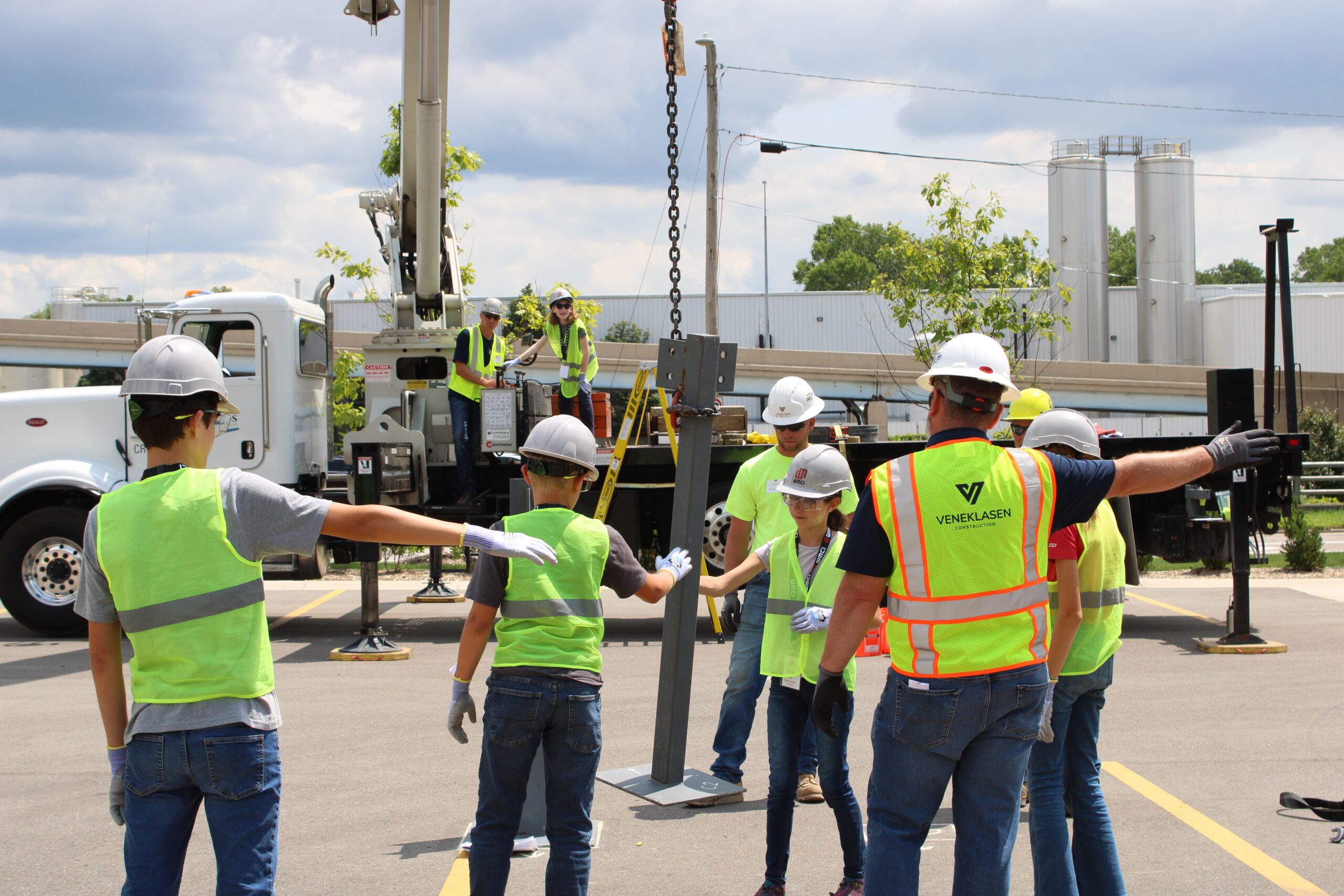 Being a construction employer, Veneklasen Construction bears the responsibility of training, supporting, and recruiting workers into the industry. Ensuring a safe working environment for our employees is one of our key priorities as well as a core value. By focusing on safety, we create an internal culture that boosts employee morale, improves retention, and gives confidence to our employees that they have a place to grow a long-term career.
A long-term career at Veneklasen is also made possible by providing training in new areas of work, giving people opportunities for advancement and to take on new responsibilities. We are also currently expanding our recruiting efforts to include more women and minority candidates and evaluate our policies and procedures to promote a more diverse and inclusive workplace. These policies reinforce Veneklasen's core value of "Integrity" which means that we do the right thing, always. This, in turn, influences our ability to hire good people and keep them on the team.
Veneklasen also encourages young people to become more familiar with the hands-on work of the trades. We host interns every summer from Ferris State University's top-notch Construction Management program and give them field experience working with our Steel and Carpentry teams and helping manage active projects. During the summer of 2023, Brayden, an intern at Veneklasen, expressed his perspective on choosing a career in construction: "I didn't want to be confined to an office all day. Construction offers me the chance to stay active, meet new people, and make a tangible impact using both my mind and my hands."
Even younger students have the opportunity to gain exposure to the industry and learn about the construction process through events like WMCI's Middle School Summer Construction Camp. This camp, put on by WMCI in partnership with construction employers around West Michigan including Veneklasen Construction, introduces students grades 6-8 to trades such as steel erection, welding, concrete, carpentry, painting and more. The hope is that they will not only have a great time but also discover an otherwise unknown passion for building and creating.
The workforce problem is complex, but we believe that we and other organizations are taking steps in the right direction. Ultimately, Veneklasen is trying to improve the construction industry by championing another of our core values: "Respect for People." People are the difference makers for all industries and construction is no different. As the industry continues to evolve and adapt it is important that it provides a place where those people can have a clear career path, make a good living, and feel fulfilled in the work they do.