Our Mastery of Steel is Unrivaled
Choose conventional steel construction for maximum design flexibility or a pre-engineered metal building for maximum cost efficiency and speed. Work with our design team or your architect. Whether you're a building owner, developer, or construction project manager looking for a steel sub-contractor, a consultation with us will lead you to the right steel framing solution.
Veneklasen Construction customers can expect quick access to state-of-the-art pre-engineered metal buildings materials that include a range of finishes and integrated architectural materials. We will help you design the right building for your industrial, commercial, mixed-use, and multi-family housing needs using specialized design software and 45 years of experience.
Metal Buildings General Contractor
We can operate as a full-service general contractor, guiding every step of your project including erecting steel buildings. You'll work directly with a dedicated project manager and design resources who partner with a site supervisor to direct our self-employed carpentry, steel, and maintenance team, plus preferred sub-contractors to complete your metal building project. A hallmark of the Veneklasen Construction experience is executive involvement throughout your project.
Get Started
Steel Erection Sub-Contractor
The Veneklasen Construction Steel Team is available to sub-contract on any project anywhere across the Midwest. Our substantial operation can mobilize to erect pre-engineered metal buildings or conventional steel construction, as well as, provide furnish and erect services for any contractor. When a metal building is part of your client's building or expansion plans, we're ready to partner with you to raise steel with expert care.
Skilled People, Specialized Equipment
There's a reason why only a few West Michigan contractors have steel raising capabilities. It's a big investment in skilled people and specialized equipment. We made that commitment more than 40 years ago and have mastered the art of raising steel buildings across the Midwest.
Along with our expertise comes a superior safety record. Our Experience Modification Rating (EMR) is consistently 50% lower than industry averages because of our training programs and pro-active prevention of on site injuries.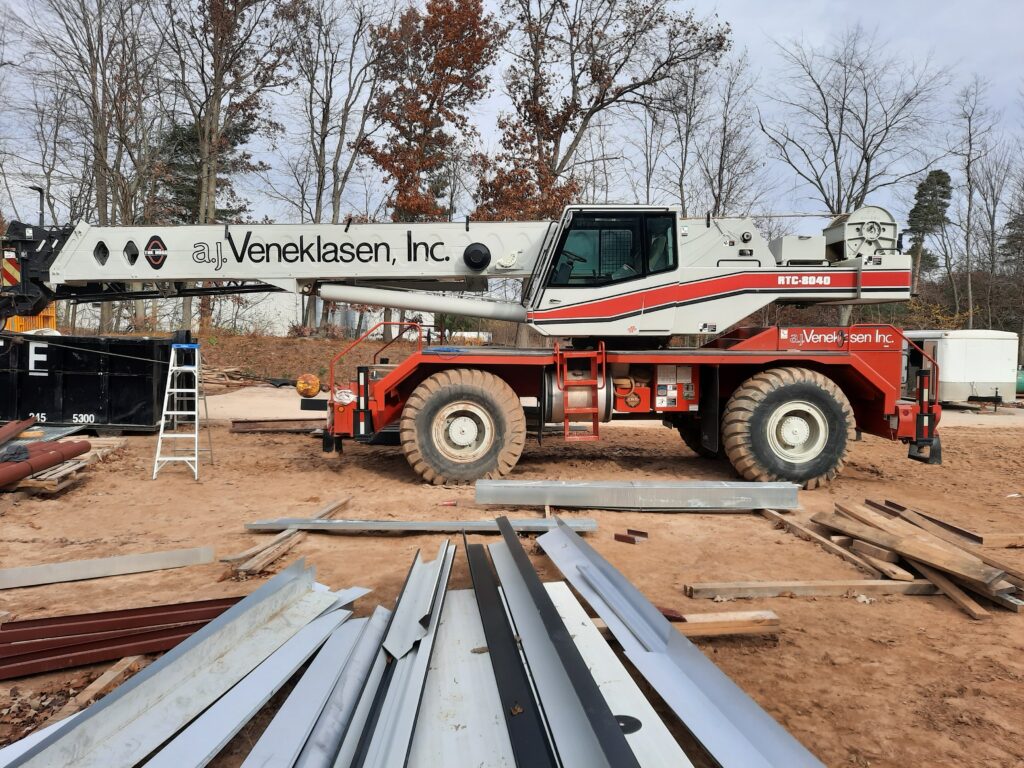 "We benefited from excellent and timely communication from both the project manager and superintendent, a good subcontractor network, and detailed, task orientated management of critical path items – which ultimately helped us achieve our end goal while not sparring quality or customer service."

—FedEx